by Colby Blackwell
Anglers in Florida, Georgia, Alabama, Mississippi, Louisiana, and Texas know what a hotspot the Gulf of Mexico is when it comes to fishing. Shoot, if you are a truly dedicated saltwater fisherman, you've probably visited the Gulf of Mexico on a fishing trip. The Gulf of Mexico offers both excellent inshore fishing from Florida to Texas' coastline and a plethora of honey holes to explore hundreds of miles while fishing offshore. With so much water to cover, you also have to be prepared for many different species of fish and sea conditions. Just like you need to be prepared as an angler for several unknown scenarios while fishing, you need to be prepared when fishing offshore and encountering a fish experiencing barotrauma.
When fishing offshore in the Gulf of Mexico, it's common to fish in depths of 50, 100, and 200 feet or more. Certain species of fish, like grouper, snapper, and other common saltwater species that ascend from such depths can exhibit an injury due to fluctuating pressure. The easiest way to describe these injuries is called barotrauma and it's a potentially lethal risk to the fish dealing with the symptoms. No matter how great of an angler you are, being prepared for barotrauma when fishing is one of the most important aspects to safely releasing the fish.
How to Be Best Prepared for Fish with Barotrauma
As we all know, while on a boat there are a number of things that can go wrong. From rough seas to a sudden change in weather to an onboard injury, being prepared as a fishing captain or angler is truly invaluable. Just like one should have personal floatation devices, a first aid kit, and proper boating instrumentation on board, as a Gulf angler you should be equally prepared for fish experiencing barotrauma. As one of the best fisheries in the world, fishermen should seek to follow the best catch and release practices as frequently as possible when fishing the Gulf of Mexico. Here are my 3 big tips for being prepared when it comes to fish exhibiting signs of barotrauma:
Have the proper knowledge to understand, diagnose, and treat barotrauma. This includes independent research, studying under an expert angler or captain, and finding a trusted resource of information on barotrauma. Personally, I would recommend all three types of preparation as it combines experiential learning with standard studying techniques. My go to resource for barotrauma is

Return 'Em Right

. Their online learning module equips anglers with the knowledge needed to diagnose whether a fish is exhibiting signs of barotrauma.

Having the right gear is the second more important aspect to being prepared after you have acquired the knowledge. Barotrauma can be addressed in several different methods by using a bevy of different tools. From the more rugged approach like releasing excess gas with a tool specifically designed for venting fish to a descending rod with a weight, I've seen a lot of tactics to cure barotrauma in fish. Again, as anglers fishing the Gulf, we should seek to preserve the marine ecosystem as best as possible and that requires having not only the right gear onboard, but the optimal gear onboard to make a safe release. I prefer a noninvasive approach to releasing fish experiencing barotrauma as the survival rate is much higher. A SeaQualizer and descending rod is the best!

Making sure you have the right setup is the last element of being prepared that is crucial for treating fish who have barotrauma. Know where your barotrauma toolkit is and have it ready to use from the start! Better yet, set up a fishing rod dedicated to descending fish. This becomes tremendously helpful when the lines are tight and you reel up several fish that have barotrauma symptoms.
Why Being Prepared for Fish Experiencing Barotrauma is Important
You might be asking yourself, why is it so important to be prepared when you reel in a fish that has signs of barotrauma? The answer is simple: timing is everything in fishing! One of the reasons I love to be prepared to handle barotrauma and well equipped to solve it for the fish is so I can spend more of my time fishing! Hey, the more lines you get down into the water, the greater the chance you have of landing a MONSTER! Quickly dealing with barotrauma is not only a win for the angler, but it is certainly a huge positive for the fish.
Fish experiencing barotrauma have massive pressure built up that can push on and affect organs like their swim bladder, stomach, and even brain in some species. Resolving the barotrauma quickly and getting the fish into a situation to release it creates a higher chance of survival. Whether you release the pressure with a tool or use a SeaQualizer to clip into the mouth of the fish, being prepared allows you to help the fish out quickly. Having your tools handy and your rods dedicated to descending fish is essential when you are fishing for species like snapper or grouper out of season. The goal is to be prepared so you can create a safe release while the fish adjusts to pressure to swim away or descend using a SeaQualizer.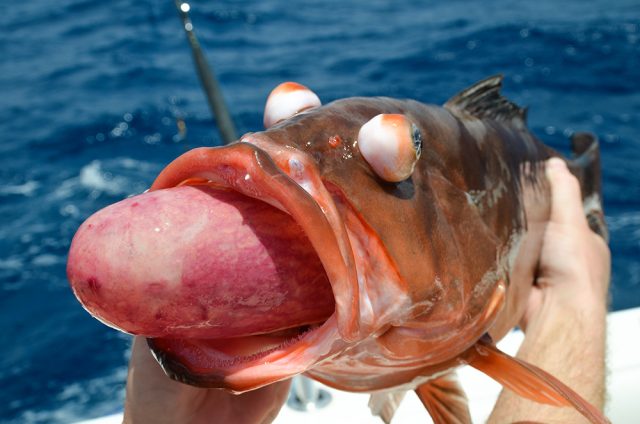 The Best Barotrauma Resource for Gulf of Mexico Anglers
When it comes to being prepared to help a fish that has barotrauma, having the knowledge to do so, and the right gear handy, I can't recommend Return 'Em Right enough. They are a program supported by the Florida Sea Grant that was created to reduce catch and release mortality in the Gulf of Mexico by providing anglers with everything needed to handle barotrauma.
Return 'Em Right offers an online learning module and a gear kit to deal with barotrauma while fishing in the Gulf of Mexico. My favorite part is this program is entirely free for both captains and anglers and Return 'Em Right is an organization dedicated to preserving the marine ecosystem through education and material support.
Sign up for their learning module here to learn more about the program and earn your free gear. Trust me, you'll thank me and the fish will thank you the next time you are out and have a fish with its stomach sticking out of its mouth!